Panama is home to some of the most beautiful and exclusive real estate in the world. So, if you're considering buying luxury property here, be forewarned — you're spoiled for choice.
The first thing to determine is where you want to buy.
Are you interested in an island condo with breathtaking ocean views? Or perhaps a stylish penthouse right in the capital?
Regardless of your preference, once you understand the lay of the land, you'll find you have an abundant list of options. Keep reading to discover our top five places to consider buying luxury property in Panama.
Where Is the Best Place To Live in Panama?
The truth is — the best place to live in Panama will depend on what you value the most.
Panama has enough diversity in its geography and culture to appeal to anyone. So, finding the perfect property to buy is all about honing in on the experience and lifestyle you're after.
If that's undisturbed views of pristine, blue waters, a place on one of the best beaches in the country like Playa Blanca or Bocas del Toro may be the perfect spot.
If you prefer a more popular destination with lively social scenes, you may gravitate toward one of the many neighborhoods in Panama City that offers all the pros of urban life like history, culture, diversity, and more.
We'll cover the top five locations we feel can meet most people's checklist.
1. Panama City
One of the most popular locations and biggest luxury real estate markets in Panama is the capital city of Panama City.
Located on the Pacific side of the country, the capital boasts expansive beaches, a buzzing nightlife scene, and a wealth of shopping and dining options. It's also home to some of the most luxurious properties (and property prices) in all of Central America.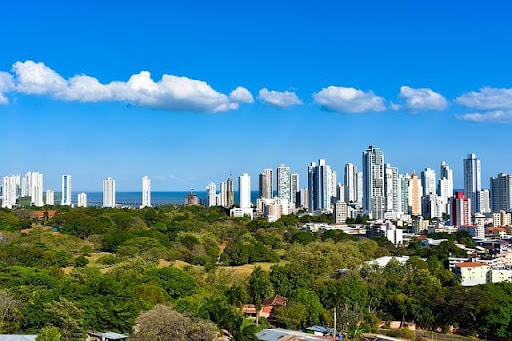 From skyscraping apartment buildings with sweeping views of the cityscape to sprawling beachfront mansions, this is the perfect place to buy property if you're looking for an urban oasis.
One great area to look into is Punta Pacifica, a rather exclusive neighborhood in Panama City, and it's easy to see why. This upscale area offers everything you could possibly want, from high-end shops and restaurants close to beautiful Pacific Ocean beaches and incredible views. If you're looking for the ultimate luxury location in the city, this is it.
Other upscale, luxury neighborhoods in Panama City you may want to look into with your real estate agent include:
Ocean Reef Islands – Located in Punta Pacifica, these man-made islands are the most exclusive residences in Latin America.
Bella Vista – A slightly more affordable price option for a condo within walking distance to more upscale parts of the city. Located behind the popular Avenida Balboa and Cinta Costera areas, there are plenty of walkways, gardens, shopping, and more.
Costa Del Este – Considered the suburbs of Panama City, this is a recently created city with palm tree-lined streets, a brand new mall, and hospital, and any amenities needed to live a luxurious and comfortable life.
Santa Maria – A coveted and pricy spot, this is a part of Panama City known for the Santa Maria Golf Club. Situated on 284 hectares, this 18-hold golf course and resort has helped shape this area into one of the most exclusive parts of town.
Punta Paitilla – This waterfront residential community is in the heart of the city. It is home to high-rise towers, upscale shopping, and excellent cultural highlights like great food, bars, and views.
Avenida Balboa – A 2.17 mile (3.5 km) road along the Pacific Ocean, real estate developers have turned this avenue into a hub for people in the city. Home to oceanfront residences with incredible views of the ships waiting to pass through the Panama Canal, it is also home to one of the city's financial districts.
El Cangrejo – Home to many universities, this is a central neighborhood with no necessity to own a car. Founded in the 1950s, this hip neighborhood is within walking distance to hip shops, bars, medical clinics, and more.
Casco Viejo – One of the oldest parts of Panama City, it's known as the historic district, and is a UNESCO World Heritage site. Reconstructed in 1673, this area sees thousands of tourists thanks to its history, restaurants, boutique hotels, and more.
2. Coronado Beach
Another of the best places for luxury real estate buyers is Coronado Beach, the largest and most developed beach town, within an hour's drive from Panama City.
Coronado offers all the comforts one could hope for and attracts many ex-pats and retirees. With restaurants, medical care, shops, supermarkets, and a championship-level golf course, this community offers its residents a laid-back lifestyle with city-like amenities.
There's no shortage of activities to get into. From ATV riding on the beach to live music venues to horseback riding, this Pacific ocean beachfront town rarely leaves anything wanting.
3. Bocas del Toro
Bocas del Toro is a group of islands off the coast of Panama near Colon Island in the Caribbean Sea. Each island is a tropical paradise, with white-sand beaches, turquoise waters, and lush vegetation.
Bocas del Toro is also a great place to buy property, as there are several high-end developments, including condos currently underway.
Just beware of the famous crocodiles found at Bocas del Toro, especially the popular Red Frog Beach.
4. Playa Blanca — Buenaventura Golf & Beach Resort
This newly developed resort town on the Pacific coast quickly became a popular spot for luxury travelers, especially thanks to the famous Buenaventura Golf and Beach Resort.
If you've not heard of this spot, then let us fill you in. Giving direct access to Playa Blanca and El Faro beach, this resort caters to people looking for the ultimate luxury experience during their stay in Panama. From world-class restaurants, golf packages, and top-of-the-line amenities, Buenaventura is the retreat many are seeking in their journey to Panama.
Pair the lure of Buenaventura with the sparkling white beaches of Playa Blanca, visitors are met with abundant choices when it comes to property types and experiences. Thanks to this diversity, we rate Playa Blanca as an excellent place to buy property for those seeking a second home or business investment.
Plus, since it's still relatively new to the luxury real estate market, there's enough space to find the perfect property for sale with everything you need –enough bedrooms and guest bathrooms, storage space, the whole nine yards. You may need to act soon, though, as the average price in this new town is rising quickly.
5. Boquete
Located only 37 miles (60km) from the Costa Rican border, this mountainous town is attractive to locals and visitors alike, thanks to its high elevation, cool climate, and lush landscape.
A great town smack dap in the Chiriqui Highlands, its popularity has made it not just a hotspot to visit but to buy property. Whether you're after plots of land or small to mid-sized family homes, or luxury estates, there's something here for every buyer.
But with the number of people that flock to this unique spot in Panama, we imagine the opportunities to buy here will only get more competitive in time.
Frequently Asked Questions
What are must-see places to visit in Panama?
In addition to the places reviewed here, some of the prettiest cities and nicest places to visit in Panama include Playa Venao, The Pearl Islands, San Blas Islands, and Coiba Island.
Where Do Most Expats Live in Panama?
Panama City, Coronado, and Boquete are rated as some of the friendliest ex-pat places in Panama to live.
What Is the Best Area To Live in Panama City, Panama?
El Cangrejo, Avenida Balboa, and Punta Pacifica are considered some of the best areas to live in Panama City, but it's important to note that there is no one-size-fits-all answer. It's essential to consider the property appreciation, safety, and proximity to what every individual considers valuable, quality of life factors.
Should You Work With Panama Real Estate Agents?
Yes, especially if you don't speak Spanish. You should work with a Panama real estate agent that understands the landscape and market and can serve as your advocate when making a purchase. Certain real estate agencies specialize in property transactions for foreigners whether they are the buyers, sellers, or both. They speak directly to listing agents and serve as a valuable intermediary that can help you determine the best place to buy.
Ready to Buy? Get in Touch With Us Today!
From a buzzing metropolitan city to gorgeous natural beach shores to cascading mountains, Panama has it all.
Whether you're unfamiliar with the country or language or you simply have questions, please reach out. Contact House Hunters Panama to speak to a real estate specialist and take the next step in your buying journey.
To become more familiar with the types of properties in different neighborhoods in Panama, click here.